If you're a BIXI member, invite your friends to join you with Group Ride! You can add One-Way rides to your credit card and unlock up to 3 bikes. It's fun to discover the city alone, and it's even better with 2 friends!
Log in to your member account and press on the icon featuring 2 silhouettes in bottom right corner on the main screen of the BIXI application.

Specify if you want to invite 1 or 2 friend(s) and continue with the purchase.

You will receive an unlock code for your guests.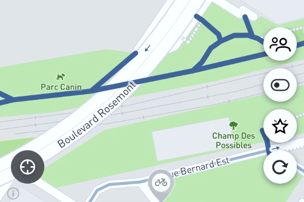 With Group Ride, you follow the One-Way rates per minute (but avoid the $100 security deposit!). An initial amount is billed per bike for unlocking, and per-minute fees are added to the unlocking fee, depending on the type of bike chosen for a personalized rate. These per-minute fees are then added to your current billing cycle, which ends on the 20th day of each month.